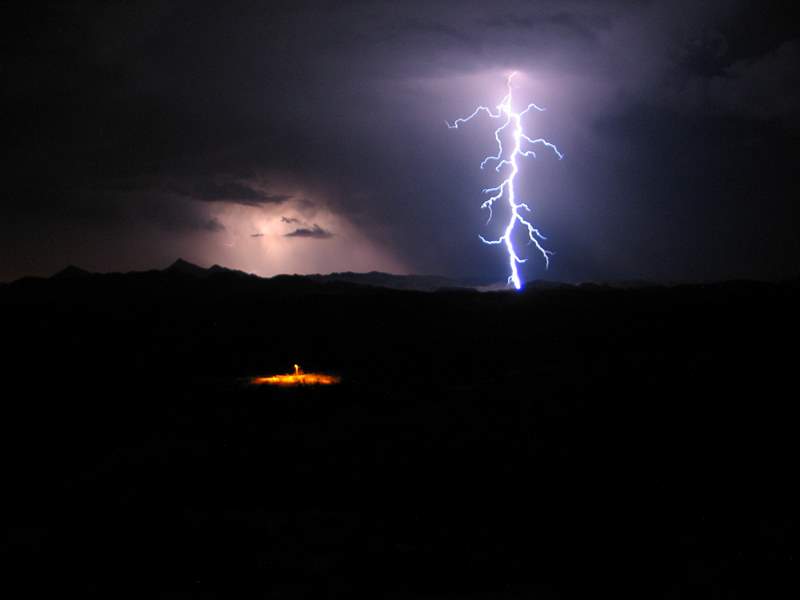 One-of-a-Kind "Lightning Strike" Condo Deals
They say that lightning never strikes the same place twice. This may be an Old West tale, but it's true here!
In this area, you will find brief descriptions and payment buttons for our current one-of-a kind condo rentals. We are not charging much for them, so grab 'em before they bolt away!
We have made renting a week fast, easy, and most importantly, safe! You won't be reading the numbers off your credit card to some stranger on the phone (who knows where those might end up?).
Instead, your payment is handled discretely and securely by PayPal, which is an eBay company. If you are already a PayPal member, you are familiar with the benefits of using PayPal to buy on the Internet.
If you don't have a PayPal account, that's alright, you don't need one! PayPal's secure system allows you to use any major credit card to make your payment. There is no cost to you for using PayPal, and by using a credit card, your purchase is protected and your peace of mind assured.
So, go ahead, click the "Buy Now" button and get your week!
If you have any questions or need any help regarding anything on our website, please do not hesitate to contact us. Our email address is
info@westweeks.com
, and our telephone number is (520) 761-1412.
1BR RiverPointe at Napa, Napa, CA, July 3 to July 10, 2011 (4th of July week) and August 7 to August 14, 2011 $799

2BR, 1BR, and Studio Condos, Perennial Vacation Club Daytona Beach Shores, FL, March 10 to March 17, 2012. 2BR $999, 1BR $799, Oceanfront Studio $699

1BR Park Hotel, Park City, UT, December 24 to December 31, 2011 (Christmas school holiday) $799
2BR Bear Lake Timeshare, Garden City, UT, July 27 to August 3, 2012 (Raspberry Festival) $899
1BR Summer Bay Las Vegas Desert Resort, Las Vegas, NV, December 28, 2012 to January 4, 2013 $799
Our "Current" Deals
1BR RiverPointe at Napa, Napa, CA
July 3 to July 10, 2011 (Fourth of July week) or
August 7 to August 14, 2011 $599
For $599 total price, visit River Point Resort at Napa in Wine Country for the week of July 3 to July 10, 2011 or August 7 to August 14. Enjoy your 1BR villa, which sleeps 4 people in a queen bed and queen sofabed. The unit has a partial kitchen (no oven) and a full bathroom. Compare our price with resort's best rate of $1259 for the week.

The resort provides modern modular units in a California vacation cottage style, plus a large clubhouse, swimming pool, fitness center, and other recreational facilities amidst garden-like grounds beside the picturesque Napa River.
1BR Park Hotel, Park City, UT, December 24 to December 31, 2011 (Christmas school holiday) $899

Regular resort rate is $1400 per week (Source: Trading Places reservations)




The nearest major airport is approximately35 miles away in Salt Lake City. From the airport, take I-80 East to the Park City exit (HWY 224). Proceed six miles into town. HWY 224 will turn into Park Avenue. Continue on Park Ave through town until you reach 7th Street. Turn left onto 7th St. Go approx. half a block to Main Street. Turn right onto Main. Go past the 4-way stop sign. The resort is the third building on the right. Park nearby for a fee.


Check-in: 4pm to 10pm on Saturday. Arrival at any other time requires special arrangements with the resort manager. Applicable occupancy taxes and minimum $100 security deposit collected on-site at check-in. www.parkhotelparkcity.com

Check in: 4pm / Check out: 10am

Park Hotel Lobby Hours

M-F 9 am - 9 pm
Sa 8 am - 10 pm
Su 10 am - 3 pm

• Restaurant
• Laundry Facilities
• Whirlpool
• Exercise Facilities
• Ski Lockers (one per unit)
• Off-site Limited Parking (fee)
• VCR/Video/DVD Rental

• Daily Housekeeping (fee)

DAYTONA BIKE WEEK! 2BR, 1BR, and Studio Condos, Perennial Vacation Club Daytona Beach Shores, FL, March 10 to March 17, 2012. 2BR $999, 1BR $799, Studio $699

We have 3 condos. First is a studio condo, sleeping 4 people. It is Unit 205, oceanfront 2nd floor view condo. The unit has a full kitchen, queen bed, queen sofabed, and one bathroom.

Second is a 1BR condo, sleeping 4 people. It is Unit 120 on the first floor with no oceanview. The condo has a full kitchen, one king bed and one queen sofabed, and has two bathrooms.

Finally, is a 2BR unit that sleeps 6 people in 2 queen beds and a queen sofabed. It is first floor unit 144, no ocean view, has a full kitchen and 2 bathrooms.

Huge pool and sundeck area overlooking the beach! Plenty of bike parking onsite (room for one car/truck also, but sorry, no trailers). Elevators available. Free Wi-Fi throughout the resort.

Perennial Vacation Club at Daytona is centrally located in one of the most recreationally diversified areas of the world. With its oceanfront location in Daytona Beach, you'll be ready for the sand, waves, greens, and courts. Enjoy the resort's swimming pool and tennis court or take a day drive to historic St. Augustine. With Daytona Beach's 23 miles of white-sand beaches, along with the Halifax River, the area beholds a lengthy list of aquatic activities for all to enjoy.


The "World's Largest Motorcycle Event" rolls into Daytona Beach for 10 days featuring motorcycle shows, exhibits, concerts, racing at Daytona International Speedway and street festivals. Bike Week has been designated a Southeast Tourism Society Top 20 Event. Bike Week activities take place at various locations throughout the Daytona Beach area. Admission: Varies.www.officialbikeweek.com.


$699 and $999 are the full cost for the week, there are no taxes, cleaning fees, etc.

More info: http://www.perennialvacationclub.com/daytona.html

2BR Bear Lake Timeshare, Garden City, UT,

July 27 to August 3, 2012 (Raspberry Festival) $899

Call or email to purchase.

$899 total price, no taxes or fees, gets you a 2BR condo for 7/27-8/3 that sleeps 6 people. Raspberry Festival runs August 2-4, 2012, so you'll be there for most of it.

If you want to get away from it all, this resort at Bear Lake is the place for you. The resort is located on 20 miles of crystal clear lake, and offers swimming, boating, fishing, waterskiing, and snorkeling. Sail boats, motorboats, fishing boats, paddle boats, canoes, and rafts are available for rent. Within a short drive you can enjoy Idaho and the beauty of St. Charles Canyon with its famous Minnetonka Cave and the Oregon Trail Center in Montpelier.

Condo has:

Telephone (All Units)
Kitchen (All Units, Full)
Fireplace - Unit (All Units)
Carpet (All Units)
Dishwasher (All Units)
Microwave (All Units)

Resort has:

Waterskiing
Windsurfing
Lake
Boating
Fishing
Pool
Children's Pool
Tennis
Sauna
Whirlpool/Hot Tub
Playground
Laundry

1BR Summer Bay Las Vegas Desert Resort, Las Vegas, NV, December 28, 2012 to January 4, 2013 $799

This is a one bedroom condo sleeping 4 people, with a full kitchen. The condo is two blocks from Caesars Palace and the Bellagio. Great choice--all the excitement, with a quiet place to escape and unwind. The resort charges about $1100 for this villa--so you save $100s renting from us.

Just one and a half blocks from the Strip, this resort is an ideal location for your Las Vegas vacation. Casinos are open 24 hours a day, seven days a week. Entertainment is found throughout the nearby casinos and hotels. On-site amenities include outdoor swimming pools and Jacuzzis. Other planned activities may also be arranged including golf, tennis and horseback riding.

Resort Amenities:

Suites have a full kitchen including washer/dryer, dishwasher, gas range and microwave. All rooms have a complimentary coffee starter pack.
Each suite at our Las Vegas property is air conditioned and has cable television, a DVD player, and a telephone with dialup internet connectivity as well as wireless connectivity.
All suites have irons, ironing boards, blow dryers and in-room safes.
The resort is comprised of three story buildings with no elevators and are nestled within a nineteen acre gated property.
One bedroom suites accommodate up to four guests. Rooms have 1 king size bed, 1 queen sleeper sofa and 1 full bathroom.
No pets are allowed.
Rental cars are available through the Concierge.
A major credit card or $100 cash security deposit is required at check-in.
Call (877) 642-5060 for special requests, such as handicap accessible suites.
Complimentary shuttle service to grocery store, Fremont Street Experience (Downtown Las Vegas,) and select stops on the strip.
On-site amenities include: 5 heated swimming pools, 5 Jacuzzis; barbecue facilities; concierge service; shuttle service and 24-hour front desk.

1BR & 2BR Maui Schooner Resort, Kihei, Maui, Hawaii, June, July, August 2011 weeks $995 & $1195 (7 nights)

The 1BR condos sleep 4 people in a queen bed and queen sofa bed. The 2BR condos sleep 6 people in a two queen beds and a queen sofa sleeper. All units have full kitchens and washers/dryers. Regular weekly rates are about $1500 and $1750, save about 30% with our rentals. There is an energy surcharge, currently $35, payable at check-in. We can get summer 2011 dates with Friday, Saturday or Sunday check-in, please inquire.

The resort is beach/ocean front but most units have limited or no ocean view (pool and garden views).

Maui has made an international name for itself with its tropical allure, heady nightlife and miles of perfect tanning beaches. Visit Haleakala National Park, Hana, and the quaint village of Lahaina. Rainbows, breathtaking sunsets, locally made wines and champagne, grazing horses, luscious lavender, tropical fish fill clear ocean waters as well as nightclubs, museums, diving, surfing and more are found here on Maui – Aloha!

Barbecues

(

On-site

)

Beach

(

Non-Swimming

)

Elevators

(

Both Buildings

)

Pool/Outdoor

(

On-site

)

Putting Green

(

On-site

)

Shuffleboard

(

On-site

)

Tennis Court

(

On-site

)

TPI Satellite Desk

(

On-site

)

Whirlpool/Hot Tub

(

On-site

)

WiFi

(Free,

On-site

)

Air Conditioning

Beach Chairs

(

In Unit

)

Beach Towels

(

In Unit

)

Dishwasher

(

In Unit

)

Hairdryer

(

In Unit

)

Iron & Ironing Board

(

In Unit

)

Kitchen

(

Full, All Units

)

Lanai

(

All Units

)

Stereo

(

In Unit

)

Television

(

w/ VCR

)

Washer/Dryer

(

In Unit

)

2BR Riviera Oaks Resort and Racquet Club, or San Diego Country Estates, Ramona, CA Please inquire if interested in these resorts--we have access to various weeks!

Regular resort rate for this 2BR week is about $1500. This is a highly desirable summer rental at this beautiful resort in the hills east of San Diego. Sleeps 6 people in one king bed and one queen bed with pillowtop mattresses. 1,188 square feet. Furnished balcony/patio. Two bedrooms, two bathrooms. Kitchen with stove, microwave, refrigerator, coffeemaker, and cookware and dishes. Separate sitting area with sofa bed. Fireplace. Cable TV with VCR and DVD player. Telephone with voice mail. Complimentary local calls. BBQs are located near the pool, and wireless internet is available.

Riviera Oaks Resort & Racquet Club — Tranquility Defined


Nestled deep inside the tranquil San Vicente Valley, the Riviera Oaks Resort in Ramona offers a complete escape from the chaos of city life — transporting you to a revitalizing rural environment. We offer spacious 1- and 2-bedroom villas with all the comforts of home, including a fireplace in each unit for a luxurious retreat. All of our villas are fully furnished and feature well-equipped kitchens.

Our family-friendly resort features 17 tennis courts, paddle tennis, hiking trails, horseback riding, and a nearby country club with an 18-hole golf course. Private and group tennis lessons are available.

If relaxation is your sport of choice, the Riviera Oaks Resort has two large swimming pools, two whirlpool spas and a fabulous Day Spa for the ultimate in pampered relaxation! The Day Spa offers a wide variety of treatments, including Swedish massage, body wraps, and stone therapy massage. Let all your stress melt away at the Riviera Oaks Resort & Racquet Club!




Resort Amenities

Full-service day spa
2 pools, saunas and two whirlpool spas
Horseback riding and bicycles
Racquet club and fitness center
Basketball, volleyball, shuffleboard, air hockey, organized activites, ping-pong, paddle tennis, and 17 tennis courts (6 are lighted).


For recreation in Ramona beyond the resort, try the many outdoor activities in San Diego County. For more information, please contact Riviera Oaks Resort in Ramona.

2BR Spinnaker at Lake Dillon, CO/Breckenridge area

The two bedroom unit sleeps 6 people in a queen bed, 2 twin beds, and a queen sofa bed. There are 2 full bathrooms, a full kitchen, washer and dryer, 2 TVs, and view deck. Enjoy the indoor pool and hot tub. There is underground parking with ski lockers.

Welcome to the Spinnaker at Lake Dillon. We offer the warmth and quiet of luxuriously appointed condominiums. Over the years we have provided not only the necessities to make our guest comfortable and relaxed, but also those small touches that make vacationing at Spinnaker an unforgettable experience.

The resort and staff have received many awards and commendations for guest satisfaction and outstanding service from international exchange organizations.

Situated in the heart of Summit County, Spinnaker is just a few miles from four world class ski resorts; Keystone, Copper Mountain, Breckenridge and Arapahoe Basin. Vail is just 35 miles away. The Summit County free shuttle stops nearby for easy transportation year-round. We are also within a stone's throw of a bike path linked to a county-wide trail system and close to factory outlet stores for your shopping pleasure.

From your spacious accommodations at Spinnaker, you are just a short walk to the Lake Dillon Marina and Amphitheater, and only two blocks from restaurants, ski shops, bike shops, movie theaters and a post office in the center of Dillon.

Rack rate for this condo is $325 a nightduring winter holidays. Rent from us and save more than half off!
Studio Marriott Canyon Villas at Desert Ridge Phoenix, AZ (Arabian Horse Show and Presidents' Day) February 19 - February 26, 2011 (7 nights) $995
Studio Marriott Canyon Villas at Desert Ridge Phoenix, AZ (Arabian Horse Show and Presidents' Day) February 19 - February 26, 2011 (7 nights) $995

Presidents Day is February 21, and the Scottsdale Horse Show runs from February 17 to 27. This is the perfect week--take advantage of the holiday and enjoy the Arabians!

Regular rack rate for this studio room is up to $309 per night + tax, or about $2200 for the week.

The studio villas sleep 4 people and are a nice size at 425 square feet. The living area has both a king size bed and a queen sofabed, and there is one bathroom. Condos have wireless high-speed internet. Enjoy the living/sitting area, kitchenette which features a mini refrigerator, microwave, coffee maker,and clock radio. Each unit has a patio or balcony.

With Southwestern architecture and desert-inspired landscaping, Canyon Villas blends seamlessly into its natural surroundings. Rock waterfalls spill into the free-form, heated outdoor pool. Two whirlpool spas and the Canyon Springs pool bar will keep the adults happy while the Lizard Lagoon, a mini water park/pool occupies the children.

Golfers, take your choice of two on-site championship golf courses designed by Arnold Palmer and Nick Faldo. The Palmer course features generous fairways, large bent-grass greens and a challenge for every skill level, while the Faldo course is reminiscent of an Australian sand belt course with 106 sand bunkers.

If you feel like pampering yourself, head over to the adjacent JW Marriott Desert RidgeŠ Resort and Spa. All of the resort's other amenities are yours to enjoy as well - including eight tennis courts, several restaurants and four acres of waterways with adult lap pool, lazy river and more.

1BR Lawrence Welk's Desert Oasis, Palm Springs, CA

Conveniently located just outside of Palm Springs in Cathedral City, California - where the average yearly temperature is 75 degrees and the sun shines 350 days a year - the luxurious desert paradise of Welk Resort Desert Oasis is welcomed by breathtaking views of the San Jacinto Mountains.

Once you arrive, you'll experience a vacation retreat worthy of its incredible surroundings. Spacious one bedroom villas offer luxury amenities and the conveniences of home. So, if home is where the sun shines, then Welk Resort Desert Oasis Resort is the perfect vacation destination for you and your family.

The comfortably furnished luxury one-bedroom units at Desert Oasis Resort are your "oasis" for your perfect couples and family vacations in Palm Springs, California. Beautifully appointed, the accommodations at the Desert Oasis Resort Palm Springs feature complete kitchen facilities equipped with coffeemaker, dishwasher, microwave, refrigerator, cookware, and dishware. Observe the enticing view of the aromatic gardens or refreshing swimming pools from your balcony. Other amenities in each luxury unit include alarm clock radio, hairdryer, and an iron/ironing board, cable television, in-room safe, and video player.
Full kitchen with dishwasher
Spacious bedroom
Living room
Dining area
Internet hook up
Flat Screen TVs and DVD players
Private patio or balcony
First-class amenities
Buy this week and attend the final matches at the BNP Paribas Tennis Open.
http://www.bnpparibasopen.org/
. Then stick around, shoot some golf, and enjoy the rest of the week!
2BR Lake Placid Club Lodges, Lake Placid, NY
Large (1500 square feet) condos. Each of our 35 Lodges sleep eight in comfort in two bedrooms and large loft area. Lodges includea large living room with wood burning fireplace, full kitchen, large jacuzzi tub, sauna,and two decks.


When the weather isn't cooperating with your outdoor plans, enjoy the fireplace as you watch a movie on ournew 40" hi-definition TVs or surf the web on our free WiFi access in every Lodge.


Please note that for the health and comfort of all guests, our Lodges are non-smoking.
Located in the heart of the wonderful Olympic vacation resort village of Lake Placid, New York, the Lake Placid Club Lodges is a short and picturesque drive to Whiteface Mountain.
Whiteface Mountain, which boasts the greatest vertical drop east of the Rockies, was recently given a new title: No. 1 ski resort in the eastern United States and second overall in eastern North America. An independent survey of 7,000 SKI Magazine readers put the Olympic mountain back on top for the first time since 2003.
Whiteface, which has 283 skiable acres and 86 trails, also received high marks for its Apres-ski, ranking No. 1 in "Off-Hill Activities" for the 18th year in a row. The Olympic Regional Development Authority spokesman Jon Lundin pointed to the nearby Olympic venues, the wide variety of restaurants and special events in the area.
"It's the overall experience and the authenticity of Lake Placid, Whiteface and Wilmington that make it so unique," Lundin said. "People just get in the spirit of things. They say they want to ski an Olympic mountain so they come to Whiteface."
And to top it off, SKI Magazine ranks the area among its Top 30 Summer Resorts. "Some ski towns slumber in the summer. Others, including Lake Placid, come into their own," wrote Joe Cutts. He continues on to mention the abundance of outdoor activities in the Adirondacks such as canoeing, camping, fishing, and hiking. But whatsets Lake Placid apart is the Winter Olympic heritage. He points out the public skating in the Olympic Center, the Olympic Museum, the ski jumping complex, summer bobsledding, mountain biking and visiting Whiteface Mountain where the choices are riding the Cloudsplitter gondola and driving the eight-mile Veterans Memorial Highway to the summit make this a truly unique vista.

The region also boasts some of the best golf in upstate New York. Check out our Great Golf pages for descriptions of some of the finer courses in the area.