Cibola Vista Resort & Spa (Peoria)
Condos Offered
We offer two sizes of one bedroom condo, the Junior and the Master (see descriptions, below). These two condos may be rented together--there is a lockoff door between them which may be kept locked or opened to form a magnificent two bedroom condo. Upscale furnishings abound, including granite countertops, upgraded appliances, tile floors, and designer drapes and spreads.
This is a great place to stay as your base of operations if you are a Mariners or Padres spring training camp attendee. The Peoria Sports Complex is a 10-minute drive, making Cibola Vista one of the closest resorts to that baseball stadium. It's also about 20 minutes to Surprise Stadium, spring home of the Texas Rangers and Kansas City Royals.
Go here for information on Cactus League teams, stadiums, schedules, etc.
Great hiking awaits you at Lake Pleasant Regional Park (15 minutes north) and in the national forest/BLM areas north and west of the resort.
Pets are allowed with a $250 non-refundable fee.
One Bedroom Junior Suite (530 square feet) $850
The One Bedroom Junior Suite is adorned with Southwestern décor ("Cowboy Motif"). These condos have one bedroom, one bathroom, a full kitchen, and dining area for four people. The condo sleeps 4 people, with a queen bed in the bedroom, and queen sofabed in the living area. Unit has flat screen TVs, washer and dryer, and patio/deck.
One Bedroom Master Suite (910 square feet) $1099

The One Bedroom Master Suite is adorned with Southwestern décor ("Cowboy Motif") . These condos have one bedroom, one bathroom with a whirlpool/garden tub, separate shower, and his & hers sinks. There is a full kitchen with bar area, and a dining area for six people. The condo sleeps 4 people, with a king bed in the bedroom, and a queen sofabed in the living area. Unit has flat screen TVs, washer and dryer, fireplace, and patio/deck.
The junior plus master can be combined into a 2BR unit. There is a lock-off door between the condos that can be secured for privacy, or left open. If you need a 2BR, please rent a junior plus master for your desired dates.
Available Dates for 2012
We have great Cactus League baseball spring training dates for the small (Junior Suite) and large (Master Suite) 1BRs:
February 26 to March 4, 2012
March 4 to March 11, 2012
March 11 to March 18, 2012
March 18 to March 25, 2012
March 25 to April 1, 2012
Please click on the dropdown menu below to select this unit.
We have made renting a week fast, easy, and most importantly, safe! You won't be reading the numbers off your credit card to some stranger on the phone (who knows where those might end up?).
Instead, your payment is handled discretely and securely by PayPal, which is an eBay company. If you are already a PayPal member, you are familiar with the benefits of using PayPal to buy on the Internet. If you don't have a PayPal account, that's alright, you don't need one! PayPal's secure system allows you to use any major credit card to make your payment. There is no cost to you for using PayPal, and by using a credit card, your purchase is protected and your peace of mind assured.
So, go ahead, click the "Buy Now" button and get your week!
Resort Overview
Welcome to Cibola Vista Resort and Spa. Not since 1929 has a resort opened in the West Valley, just outside of Phoenix, and never before has a luxury resort been planned that preserves the traditions of the American West while offering the finest amenities and comfort for its owners.
Nestled between Lake Pleasant and Phoenix lies Arizona's newest luxury resort, Cibola Vista Resort and Spa. Taking its name from the fabled "Seven Cities of Cibola," the resort is the ultimate Vacation experience.
Cibola Vista is designed for seven "cities." Six cities are villas and the seventh city is the resort's extensive amenity core. There are public and private courtyards, fountains, Kivas, gardens and reflecting pools throughout the resort, all connected with a series of walkways to enhance the unique village design.
Whether you want to just relax and enjoy the natural beauty of its surroundings, have the golf concierge arrange your tee times, take advantage of the exciting Cibola Vista Riding Program, fish, boat or ski beautiful Lake Pleasant, or take in one of the many sporting and cultural events in Peoria and Phoenix, Cibola Vista offers a wonderful vacation experience for you and your family.
The history, cultures, and beauty of the surroundings are incorporated into every detail. All brought together for one purpose - to offer our guests a wonderful, enriching, and comfortable vacation.
Resort Amenities
Sports Court:
A great area for families to have a mix and match competition of tennis or basketball. Our court is right in the center of all the action of Cibola Vista. Complimentary tennis rackets and balls are provided for your enjoyment. Steps away you can splash into the pool or sit in the courtyard on your laptop and continue business.
Cibola Fitness Center: Don't forget your tennis shoes and workout wear. If you're not out taking a hike along one of our cactus trails or visiting our old Wild West towns, you can get your workout in our state of the art fitness center. Treadmills, Ellipticals, free weights, and Strength Building Equipment are available 24 hours a day.
Franciscan Pool and Cafe: Located in our exclusive adult pool area, you can slip away from the kids and relax with a frozen daiquiri or sit poolside and enjoy lunch or dinner. It features one main pool and whirlpool, surrounded by cabanas and comfortable lounge chairs for one to enjoy while in the sun or shade.
Lagoon Pool: Surrounded by desert landscape, this made for all ages Lagoon pool is by far the best attraction here at Cibola Vista. Start your morning with a refreshing swim and workout in our lap lanes or lay relaxing in the beach entry child friendly area. Be ready to travel down our 3 story water slide for a big splash into your vacation, or simply relax on our lounge chairs and take in the desert sun. You can also enjoy our creative food and beverage menus that are offered poolside.
Trailhead Meeting Room: Planning a wedding, birthday party, or business meeting, we are here to make your experience seamless. Discover a unique space that adapts perfectly to your goals and technology that accommodates the most demanding presentation and communication requirements. Experienced Cibola Vista Resort event coordinators are here to assist with setting up any type of A/V equipment, music, or entertainment for your meeting, party or other event you would like to host. Please feel free to contact the resort and speak with our event and activities coordinators to see if we are able to help plan your next event.
Internet Access: $4.95 fee for daily internet access from our guest suites. In addition, internet and printer access is available in our lobby business center.
Wedding Packages: Cibola Vista eases the worry of wedding planning with our specially conceived wedding packages. Cibola Vista event coordinators are ready to offer expert assistance – allowing you to anticipate your special day with pleasure and confidence. Whether you dream of an outdoor gala, sunset ceremony, or an intimate gathering, we invite you to explore all the possibilities.
Kids Events: If your kids are just beginning, all grown-up, or at any stage in-between, Cibola Vista Resort and Spa is a wonderful place for you and your family. We go out of our way to make our youngest guests feel welcome, and our Concierge team is always readily available to make reservations for a family dinner or offer suggestions for tomorrow's outing. Children 18 years and younger are always welcomed at no extra charge to stay in your suite.
Contact Information
If you have any questions or need any help regarding anything on our website, please do not hesitate to contact us. Our email address is
info@westweeks.com
, and our telephone number is (520) 761-1412.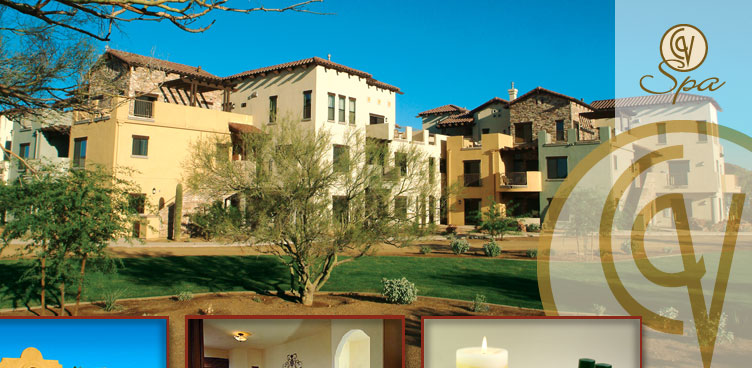 Buildings and Grounds
Junior Suite Rooms
Master Suite (Rooms)

Swimming Pool