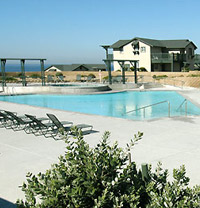 Worldmark Monterey (Marina Dunes) Resort
Condos Offered
All condos at Marina Dunes have two bedrooms and provide a spacious 1150 square feet. The unit sleeps 6 people and has a king bed in the master bedroom, 2 twin beds in the second bedroom, and a queen murphy bed in living area. There are 2 bathrooms. The unit has a full kitchen, washer and dryer, patio or deck with a gas BBQ, and a gas fireplace. We have arranged for free wireless internet access, in-room, using our owner's account (a $20 value).
Available Weeks for 2011
On all of our Pacific Coast beach resorts, we specialize in summer school/holiday/July vacation weeks!
The prices shown are the TOTAL prices. There are NO additional charges (such as sales or lodging taxes, cleaning fees, deposits, booking fees, etc.). The price you see is the price you pay!
We have 2BR condos for these dates:
July 1 to July 8 $1395 SOLD OUT
July 8 to July 15 $999 PRICE WILL BE CORRECT IN YOUR SHOPPING CART
July 15 to July 22 $999 " "
Please select the week you want from this dropdown menu:
We have made renting a week fast, easy, and most importantly, safe! You won't be reading the numbers off your credit card to some stranger on the phone (who knows where those might end up?). Instead, your payment is handled discretely and securely by PayPal, which is an eBay company. If you are already a PayPal member, you are familiar with the benefits of using PayPal to buy on the Internet. If you don't have a PayPal account, that's alright, you don't need one! PayPal's secure system allows you to use any major credit card to make your payment. There is no cost to you for using PayPal, and by using a credit card, your purchase is protected and your peace of mind assured. So, go ahead, click the "Buy Now" button and get your week!
Resort Overview
Sure, San Francisco has the Victorian architecture and the cable cars, but Monterey Bay is the purist's California. Henry Miller once said of the area, "This is the California men dreamed of years ago ... The face of the earth as the Creator intended it to look." And so it is. Monterey Bay has inspired artists from John Steinbeck to Ansel Adams.
To get a little inspiration in your life, drive just north of the city of Monterey to your resort at Marina Dunes. As you do, roll down the windows and take in the sweet coastal air. You'll hear the sea lions and the roaring surf drifting on the wind. After you check in, check out Cannery Row and the unbelievable Monterey Bay Aquarium. There's plenty to see and do as you sink into the history and beauty of this unique stretch of California coastline.
Popular Attractions
Cannery Row
Cannery Row, the waterfront district of Monterey, offers a wealth of entertainment opportunities, including live music and late night comedy. You can also rent a vintage car or enjoy a game of pool. 12mi.
Monterey Bay Aquarium
Learn about marine life that inhabits the waters around Monterey Bay and beyond at this award-winning aquarium located in Cannery Row. Open: 10 a.m.-6 p.m. daily (except Dec. 25); 9:30 a.m.-6 p.m. daily (summer and holidays). 12 mi.
The Maritime Museum of Monterey
This seafaring has a collection of nearly 6,000 artifacts, more than 50,000 photographs and 6,000 books and papers from Spanish explorers, mission settlers, trade activities, the fishing industry and the U.S. Navy. Open: 11 a.m.-5 p.m. Tues.-Sun. 12 mi.
Unit Amenities

· Cable TV
· DVD player
· Stereo with CD
· Telephone
· High-speed Internet access
· Gas fireplace
· Balcony/terrace
· Gas barbecue
· Murphy bed
· Washer and dryer
· Iron and ironing board
· Hairdryers

Resort Amenities

· Outdoor swimming pool
· Outdoor children's pool
· Outdoor spa
· Beach access (walking distance)
· Restaurant (dinner only)
Local Activities

· Beach
· Neighboring Carmel, Pacific Grove and Santa Cruz
· The Path of History Tour
· Carmel Mission
· Hearst Castle
· National Steinbeck Center
· Award winning Monterey Bay Aquarium
· Fisherman's Wharf
· Legendary golf courses at Pebble Beach resort
· Big Sur
· 17-Mile Drive
Contact Information
If you have any questions or need any help regarding anything on our website, please do not hesitate to contact us. Our email address is
info@westweeks.com
, and our telephone number is (520) 761-1412.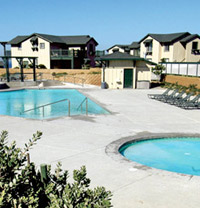 Pool and Spa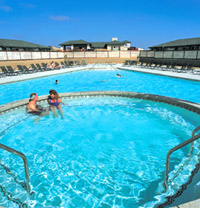 Pool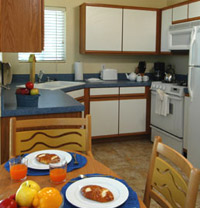 Kitchen and Eating Areas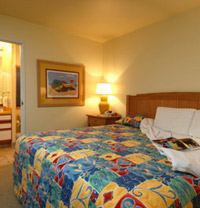 Master Bedroom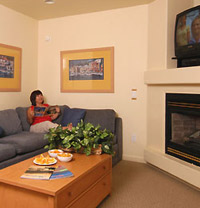 Living Area with Fireplace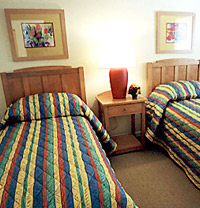 Second Bedroom
Exterior