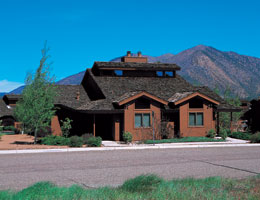 Wyndham (Fairfield) Flagstaff Resort
Condos Offered
Two bedroom tri-level townhouse-style unit measuring 1069 square feet. On the upper level, you will find a living area with queen sleeper sofa and a full kitchen. On the middle level is a bedroom with 2 twin beds and a full bathroom. On the lower level is the master bedroom with king sized bed, and a full bathroom with a jacuzzi tub. The condo has a washer and dryer, gas fireplace, and deck with mountain views.
Two bedroom lockoff units measure 1175 square feet. These 2BR units feature an "A or large 1BR side and a "B" or small 1BR side.
The large 1BR "A" side provides 715 square feet, and features a bedroom with queen bed, a bathroom with a tub and shower and a separate room with jetted jacuzzi tub, a full kitchen, a living area with queen sofabed, and a patio or deck.
The small 1BR "B" side provides 460 square feet, and features a bedroom with queen bed, a bathroom with a tub and shower, a full kitchen, a living area with queen sofabed.
Available Weeks for 2011
The prices shown are the TOTAL prices. There are NO additional charges (such as sales or lodging taxes, cleaning fees, deposits, booking fees, etc.). The price you see is the price you pay!
Two Bedroom Tri-Level July 2 to July 9, 2011 $1099--SOLD
One Bedroom Lockoff(Large) July 16 to July 23, 2011 $799--SOLD
One Bedroom Lockoff (Small) July 16 to July 23, 2011 $699
One Bedroom Lockoff (Large) July 23 to July 30, 2011 $799
One Bedroom Lockoff (Small) July 23 to July 30, 2011 $699
We have made renting a week fast, easy, and most importantly, safe! You won't be reading the numbers off your credit card to some stranger on the phone (who knows where those might end up?).
Instead, your payment is handled discretely and securely by PayPal, which is an eBay company. If you are already a PayPal member, you are familiar with the benefits of using PayPal to buy on the Internet. If you don't have a PayPal account, that's alright, you don't need one! PayPal's secure system allows you to use any major credit card to make your payment. There is no cost to you for using PayPal, and by using a credit card, your purchase is protected and your peace of mind assured.
So, go ahead, click the "Buy Now" button and get your week!
Resort Overview
2,200 Acres of Flagstaff Fun. Wyndham Flagstaff, located in Northern Arizona's high country, offers you a neighborhood-style "home away from home" with a full range of resort amenities and activities right on site. Great activities center with lots of planned and freeform activities for young and old alike.
It's easy to enjoy a wonderful stay here without even leaving the grounds. When you do head off site, you're close to so many of the popular sights and attractions that make this region such a highly sought-after vacation spot — including the Grand Canyon. There are 8 National Parks and Monuments within 2 hours drive of the resort: Grand Canyon, Walnut Canyon, Tuzigoot, Sunset Crater, Wupatki, Montezuma's Castle, Montezuma's Well, and Petrified Forest.
Amenities
2 Outdoor Swimming Pools
Golf Course
Exercise Equipment
Playground
Miniature Golf
Basketball
"Get Out & Play" Activities Program
8 Tennis Courts
Outdoor Hot Tub
Picnic/BBQ Area
Driving Range
Restaurant
Area Activities
Adjoins National Forest
Lake
Cross-Country Skiing
Horseback Riding
Shopping
Snowboarding
Mountain Biking
Downhill Skiing
Boating
Restaurants
Live Entertainment
Hiking
Contact Information
If you have any questions or need any help regarding anything on our website, please do not hesitate to contact us. Our email address is
info@westweeks.com
, and our telephone number is (520) 761-1412.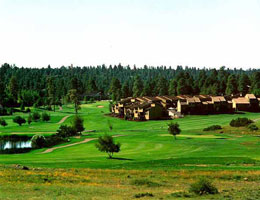 Resort and Golf Course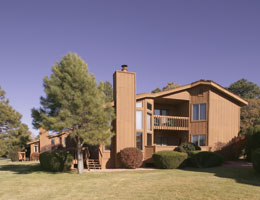 Condo Exterior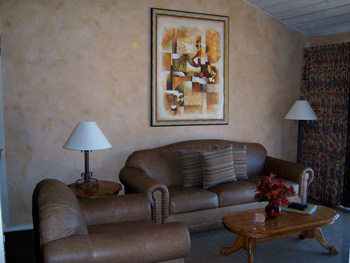 Living Area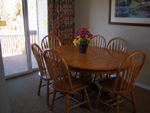 Dining Area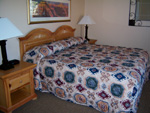 Master Bedroom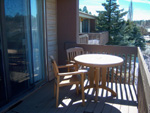 Deck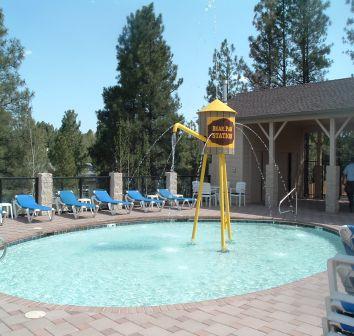 Kiddie Pool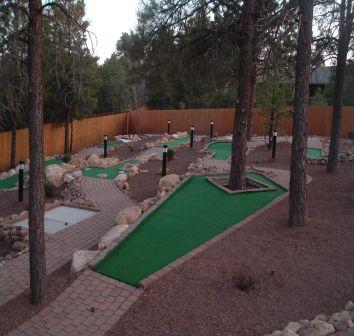 Miniature Golf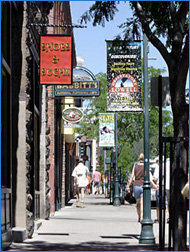 Historic Downtown Flagstaff