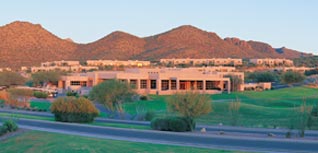 Starr Pass Golf Suites Resort, Shell Vacations Club
Condos Offered
Starr Pass offers studio, one bedroom, and two bedroom condos. These are arranged as "lock-off" units,
which means the studio and 1 bedroom are side-by-side, have a lockable door, and can either be used
together or as separate condos.
Available Weeks for 2011
We specialize in lodging for Tucson gem, mineral, bead, and fossil show vendors and exhibitors. We understand your needs, and have reserved ample time, so you will be able to arrive early, have time to set up your tables and booths, and attend your entire show. Stay with us, and you will enjoy a comfortable, affordable, and convenient resort.
We offer the following lodging options in 2012:
Studio Condo, January 26 to February 13 (18 nights), $2198
One Bedroom Condo, January 26 to February 13 (18 nights) $2860
We have several condos in each size, if you need more than one.
These prices include sales or lodging taxes, and there are no deposits or booking fees.
Please select the condo (studio or 1BR) you want from this dropdown menu:
If you need a 2BR unit, please rent a studio and a 1BR unit together (there is a lockable connecting door between the studio and 1BR).
For comparison, the resort charges $3272 for the studio and $4085 for the 1BR week (source: "Best Available Rate" from Starr Pass Golf Suite Resort online reservations, as of 2/27/11). As you can see, our prices are pretty good!
We have made renting a week fast, easy, and most importantly, safe! You won't be reading the numbers off your credit card to some stranger on the phone (who knows where those might end up?). Instead, your payment is handled discretely and securely by PayPal, which is an eBay company. If you are already a PayPal member, you are familiar with the benefits of using PayPal to buy on the Internet.
If you don't have a PayPal account, that's alright, you don't need one! PayPal's secure system allows you to use any major credit card to make your payment. There is no cost to you for using PayPal, and by using a credit card, your purchase is protected and your peace of mind assured.
So, go ahead, click the "Buy Now" button and get your week!
Resort Overview
Tucked away in the spectacular desert beauty of Arizona, in the foothills near Tucson, Starr Pass Golf Suites is a Southwest vacation jewel. The endlessly changing vistas of natural beauty surrounding this inviting resort provide the stunning backdrop for a perfect mix of comfort and casual elegance.
At the heart of the resort community is the celebrated Starr Pass Golf Course. Its desert style layout and dramatic terrain challenges golfers of all skill levels. The J.W. Starr Pass Resort and spa added nine additional holes, making it a 27-hole Arnold Palmer Signature Golf Facility.
But Starr Pass Golf Suites isn't just for golfers. It's also perfect for a family getaway, hiking, biking, or those seeking to enjoy the culture and adventure of the old southwest. A peaceful location along the wildlife corridor adjacent to the 20,000 acre Tucson Mountain Park makes it ideal for those desiring a relaxing escape with a touch of outdoor adventure. Starr Pass is also located only minutes away from the Arizona Sonoran Desert Museum. Low light restrictions also make star gazing a particularly rewarding pursuit due to the close proximity of Kitt Peak Observatory.
The spacious, air-conditioned, southwestern-themed suites boast fireplaces, patios with three floor plans, from cozy studios to airy two-bedrooms with fireplaces. They also offer furnished private balconies for year-round enjoyment. They include fine appointments like open beam ceilings and Mexican tile floors and are furnished in charming Southwest contemporary style. Each offers a view of the dramatic desert beauty surrounding Tucson. Entertainment amenities include cable television with a DVD/VCR player, as well as free internet access.
Studios offer 405 square feet of efficient space with two double beds and one bath. They also have a kitchenette that includes a small refrigerator, coffee maker and microwave oven, with dishes and cutlery for preparing snacks and light meals. There is no sink in the kitchenette area, but housekeeping will exchange dirty dishes upon request. You can also relax in a small sitting area, graced with a southwestern style armoire.
One Bedroom Condos have 895 square feet of living space and include a full size living room with a queen sofa sleeper and dining room. The fully equipped kitchen includes a refrigerator, dishwasher, stove, oven, microwave and coffee maker. The master bedroom includes a king-size bed, and private bath with tub and separate shower. There's also a washer & dryer for your convenience. For your entertainment you'll find two TV's with cable service, CD Player, DVD player/VCR and a wood burning fireplace.
Two Bedroom Condos combine the studio and 1 bedroom condos. They offer a generous 1300 square feet of Southwest comfort, with two full bedrooms and two bathrooms. Bedrooms have a king-size bed and two double beds. Bathrooms have either a shower/tub combination or separate shower and tub. For those special gatherings that include a special meal there's a full kitchen, and dining room with all cooking and eating utensils. The fully equipped kitchen includes a refrigerator, dishwasher, stove, oven, microwave and coffee maker. There's also a washer & dryer for your convenience. The living room has a queen sofa sleeper. You'll also find 3 TV's with cable service, CD Player, as well as a DVD player/VCR.
1 BR & 2 BR Only:
Fully equipped kitchen includes a refrigerator, dishwasher, stove, oven, microwave and coffee maker.

The master bedroom includes a king-size bed, and private bath with tub and separate shower.

Sofa beds

Washer & dryer

CD player

DVD player/VCR

Wood burning fireplace
Room Features & Amenities:
Air conditioning & heating

Furnished private balcony or patio

Dining area

Living room

Cable TV

Full bath with shower and tub

Hair dryer

Complimentary toiletries

Tempur-pedic premium bedding

Hypo-allergenic bedding available upon request

Alarm clock radio

Iron & ironing board

Video rentals

Pack n' Play playpen available upon request
Resort Features and Amenities:
Olympic size heated outdoor swimming pool
Interent access
Hot tub

Fitness Center

2 hard surface tennis courts

27 hole Arnold Palmer signature golf course and pro shop

Mountain bike rentals available

Basketball court

Onsite Dining at The Catalina Sports Bar & Grill

Guided hikes & walking trails

Free parking

Movie rentals (fee)

Private meeting space available

Pack n' Play playpens available upon request

Safety deposit boxes available at front desk

Free shuttle from resort to JW Marriott Starr Pass Resort and Spa
Area Attractions
The Tucson Gem and Mineral Show (TGMS), along with 40 other shows, are the highlighted event for the condo weeks we offer. Most shows run for 2 weeks and are scheduled for January 28 to February 12, 2012. You can get all the up-to-date information on all the jewelry, rock, crystal, gem, and mineral shows around Tucson at this website:
In 1880, Richard Starr ran a stagecoach trail through Starr Pass in the rugged Tucson Mountains, giving visitors an opportunity to experience the wilds of western Tucson. That historic pass is now the fifteenth hole of the Starr Pass Arnold Palmer Signature Golf Course. Now you can experience the wonder of golf in the Sonoran desert while you enjoy the comfort and hospitality of Starr Pass Golf Suites.
The city lights of Tucson are minutes away, providing easy access to shopping, fine dining and entertainment. Day trips to Mexico and the historic towns of Tombstone and Bisbee provide a taste of the Old West for true adventure seekers. Tubac's artist community is located 45 minutes south of the resort for fine arts shopping. Wherever you go or whatever you do, the relaxing luxury of your suite is waiting when you return.
Starr Pass Golf Suites also offers weekly activities. Every Tuesday, Friday, and Saturday mornings, be entertained by the Activity Director with a signature Nature Walk and Art Under the Umbrella. At 7am the Activity Director will take guests on a Nature Walk through the resort and neighboring trails, while pointing out Tucson's flora and fauna. At 9:30 am, Art Under the Umbrella begins with painting, decorating and creatinga wide range of arts and crafts with a southwest flair. These crafts include creating wind chimes, necklaces, walking sticks, flagstone art, and many more made from materials found in the Sonoran Desert.

Quick Area Guide
Destination distance:

Old Tucson Studios: 20 minutes
San Xavier Mission: 25 minutes
Green Valley: 45 minutes
Tubac: 60 minutes
Patagonia: 1 hour
Nogales, Mexico: 1.5 hours
Mount Lemon: 1.5 hours
Tombstone: 1.5 hours
Attractions & Museums
Nearby you'll find the
Arizona Sonoran Desert Museum
, a renowned zoo, natural history museum and botanic garden. The museum has enchanted millions of visitors with its exhibits of live animals in astonishingly natural settings, and has gained a worldwide repute in the scientific community as an institution committed to researching and protecting the land, plants, and the animals of the Sonoran Desert region. 520.883.2702
www.dese
rtmuseum.org
Go horseback riding at Cocoraque Ranch. Ride through cool, lush mountain trails, trickling creeks, exciting panoramic views. http://www.cocoraque.com 520.682.8594
One of the most beautifully preserved Spanish Missions in the Southwest, Mission San Xavier del Bac, is only a short 7 mile drive away. This mission is one of the most popular attractions in Tucson with Native American artisans and a café onsite, this is a must see destination during your visit. http://www.sanxaviermission.org/

Experience a stunning limestone cave in Southeastern Arizona that boasts world-class features. Kartchner Caverns State Park, discovered in 1974, is host to a wide variety of unique minerals and formations. Water percolates from the surface and calcite formations continue to grow, including stalactites dripping down like icicles and giant stalagmites reaching up from the ground. Tour guides will unveil this fascinating underground landscape during a memorable 1½ hour tour. www.azstateparks.com
Saguaro National Park is home to one of the largest Saguaro forests in the world. Not only will you get a chance to see these giants whose silhouettes characterize the desert landscape, but abundant Sonoran wildlife will also add to your experience. http://www.nps.gov/sagu/
Sabino Canyon is the highlight of any Tucson experience. Hiking this large chasm in the Santa Catalina Mountains will lead you to Seven Falls, a magnificent oasis at the end of a six mile hike. Shuttle and Tram rides are also available by reservation. 520.749.8700 www.sabinocanyon.org

Kitt Peak is home to the world's largest collection of optical telescopes, and is located high above the Sonoran Desert under some of the finest night skies. Kitt Peak, on the Tohono O'odham Reservation, is home to twenty-four optical and two radio telescopes representing eight astronomical research institutions.www.noao.edu/kpno

Tombstone, made famous for the 1881 shootout at the O.K. Corral, is a short 1 hour drive. You can enjoy shopping, shootout reenactments and horse drawn carriage tours of this colorful old west town. http://www.tombstone.org/
Discover the beautiful Southern Arizona desert with ATV Desert Tours. 520.682.3669
www.atv-deserttours.com
Not far from the resort is the University of Arizona campus - home of the Wildcats! Whether you're visiting the campus for an orientation tour or an alumni watching Wildcats basketball, Starr Pass Golf Suites is a short drive away.

Geocaching
Take on an affordable adventure and go geocaching! Experience the various trails along in Tucson and discover a treasure or two along the way. Many geocaching adventures await on
http://www.geocaching.com
Starr Pass Golf Suite's onsite activities coordinator is happy to assist you in finding the perfect Tucson activities for your visit. Contact us at 520.670.0500
---
Wineries

Callaghan Vineyards
336 Elgin Rd.
Elgin, AZ 85611
Phone: 520.455.5322

Domaines Ellam Winery
HC1 Box 46, Elgin
Elgin, AZ 85611
Phone: 520.455.9309

Kief-Joshua Vineyards
370 Elgin Rd., HC1, Box 31
Elgin, AZ 85611
Phone: 520.455.5582
Contact Information
If you have any questions or need any help regarding anything on our website, please do not hesitate to contact us. Our email address is
info@westweeks.com
, and our telephone number is (520) 761-1412.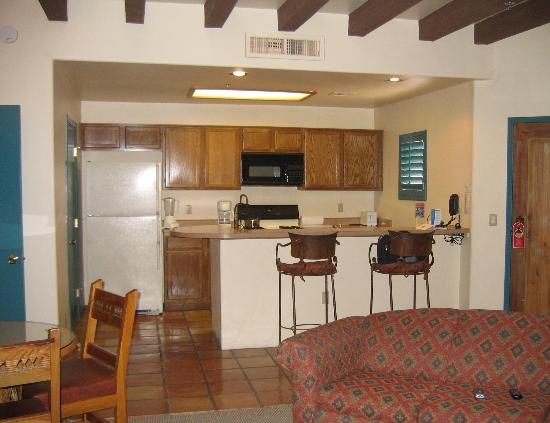 1BR Kitchen and eating area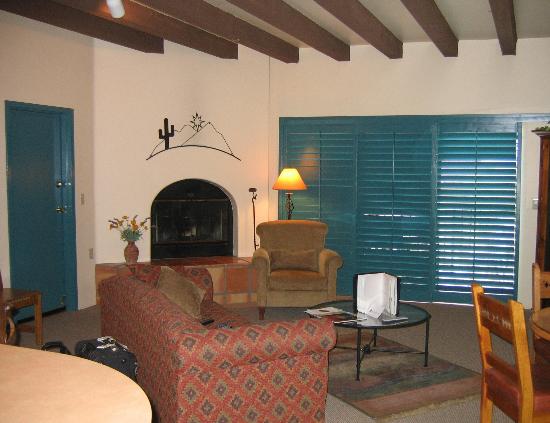 1BR Living Area
1BR Bedroom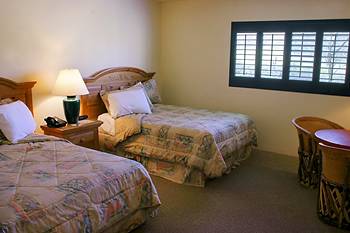 Studio Unit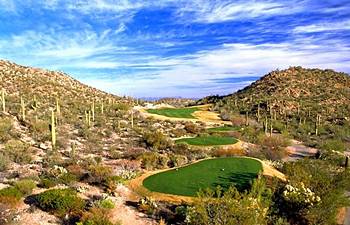 Golf Course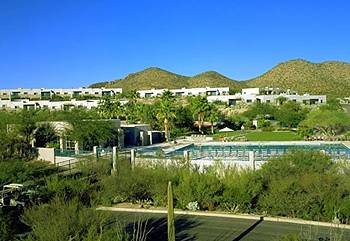 Pool and Tennis